15 Fun Games You Can Play On Zoom + Other Conference Calls
This article has links to products and services we love, which we may make commission from. Thank you for staying home and using our content for future plans.
Staying in but still want to be social? Here are 10+ games you can play on Zoom and other conference call apps. All you need is a video calling device, audio, a pal and the occasional prop. Let's take a look at how to play games on Zoom and similar video call sites.
Note: I (Gemma) will keep adding to this post when I discover more lighthearted activities to play over the screen so bookmark this page and keep coming back. Have any games to play on Zoom that you want to add to our guide? Email us gemma@twoscotsabroadc.com.
Games to Play on Zoom with Friends
1. Name in the Bag/Guess Who?
You know that popular Christmas Day game where you put the celeb names on post-it notes and stick it on someone's head?
Then your loved one has to guess who it is?
Well, Name in the Bag is not just for Christmas!
You have to be creative and turn the game around a little by choosing a celebrity for the player. 
Don't let the player see who they are until they've guessed correctly or run out of guesses!
There is the popular app version called Heads Up which you can download on Android and on Apple but it might be a little fast-paced for video call software.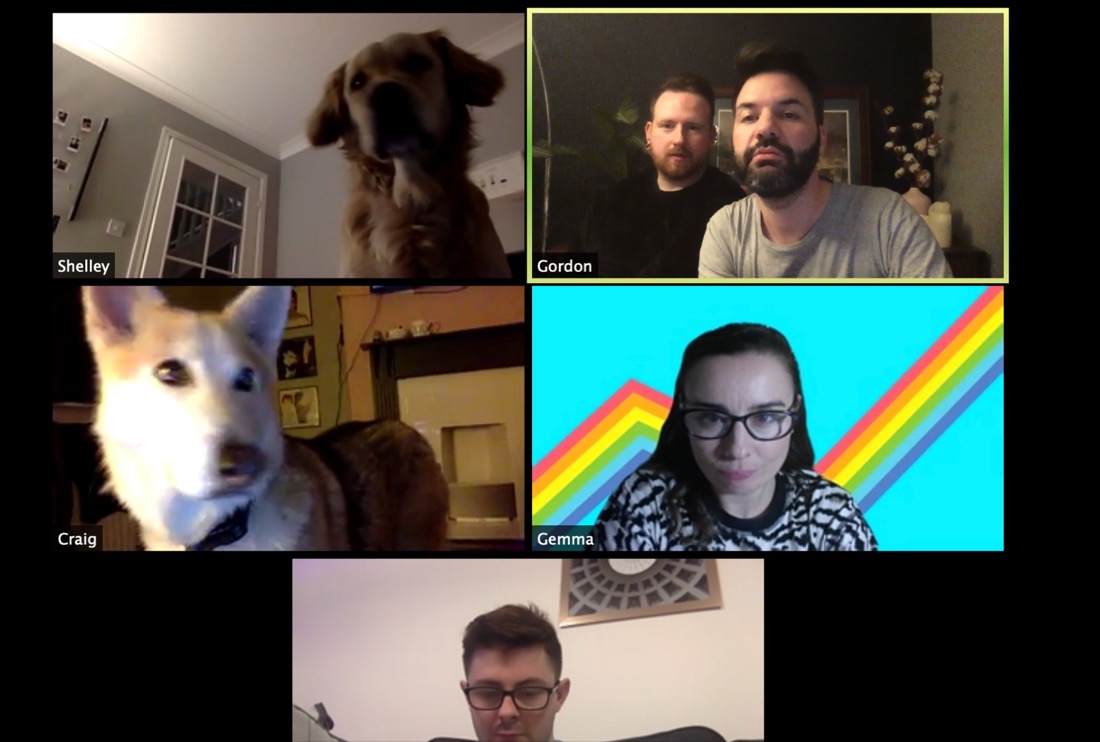 2. Houseparty 
Free, fun and fast to set up, Houseparty is a game available on IOS, Android, Chrome and Mac.
Coined 'Facetime plus games', the software is a video call software and quizmaster rolled into one. 
Play Heads Up (like Celeb in the Bag), Pictionary and Quick Draw. 
I've found the Android app works better than the IOS on my Macbook.
Sometimes my friend couldn't start a game but I could.
Be patient and you'll get there!
I never hook up free apps to other apps like Facebook etc. Don't want to share content betweens apps.
3. Jackbox
Once everyone has exhausted HouseParty they move on to Jackbox!
Jackbox Games has a variety of individual games and games packages for sale.
Packages include bluffing games, drawing games, fill in the blank, sound effects and trivia.
Jackbox can be played over every device going from laptops to game consoles, phones to desktops.
4. Harry Potter Virtual Locations Tour
All aboard Hogwarts Express.
Next stop is Edinburgh!
Take a virtual tour of Scotland's capital as you follow in the footsteps of JK Rowling.
Find out which cafes Rowling wrote it, wander through the very graveyard the award-winning author took inspiration from and visit Edinburgh's very own  Diagon Alley, the colourful Victoria Street.
Dive deep into Potter trivia during this private 1-hour virtual video tour over Zoom.
The tour is priced at £40 but we have an offer for you…
Sign up here and reserve your spot here.

5. Cards Against Humanity
This is not a game to play with your grandparents.
The infamous Cards Against Humanity can now be played online through Playing Cards.
Set it up over the likes of Zoom (see below) for multi-person virtual play.
Cards Against Humanity is a dark card game where players match ridiculous statements which are often close to the bone!
Hours of fun and cringing.
6. Just Dance
Thanks to my sister-in-law for this recommendation!
Download Just Dance to your laptop or desktop and also add the app to your phone.
The phone then acts as the controller.
Play over Zoom to enter 'party rooms' and dance together.
There's a huge range of music from disco to Disney.
Now obviously there has to be an element of competition!
Points are gathered and the winner takes home the glory.
So whose handbag is going on the ground?
7. Caribu
Looking for a fun way to connect with the kids in the family?
Caribu is an app was awarded the 'best invention of 2019' by Time Magazine.
This app allows absent parents and grandparents to read to and interact with children for a monthly fee.
8. Karaoke
I'm not joking! There are hundreds of karaoke songs on YouTube.
Grab a Bluetooth mic UK / US or a hairbrush and let the battle commence. 
9. Cook Club
Set up your device in the kitchen and chat while making a dish.
Why not learn from an actual chef?
There's a two-hour pasta making class online with Nonna Live.
Just select a date for your live stream lesson with an authentic Italian cook.
Not only are you learning new skills and creating a meal to eat, but you are also supporting a local business who can't do in-person lessons.
Looking for an international tour? Check out these tours from home around Rome, Venice and New York.
10. Dine Together
Pre-agree on ingredients or see what's in the store cupboard and choose a recipe from Jack Monroe, Bootstrap Cook UK / US. 
Stress out together while you cook and then chill over the meal. 
You are definitely sitting two metres apart during this dining experience!
Perfect for date night too. 
I've now seen so many dates do this. Super cute and no taxi home required!
11. Film/Book Club/Netflix Party 
Saturday nights in don't have to be boozy. 
Grab a gang, pick a book and discuss the main themes. 
I've recently taken part in the Femspectives weekly film review.
We privately watched the film on Netflix before the chat, then spoke about the themes for an hour via Zoom.
Each week the organisers will put up films for us to vote on.
You can keep up to date with new callouts here on their Facebook.
What about a Netflix Party?
With this addon you can watch a movie or show with friends and have the option to write comments to each other.
12. Yoga With Yours Truly
Move over Adriene, we're all YouTube stars during this testing time!
Place your device so you can show off your Cat Cow while others follow along.
Or you could all just follow Adriene because she's the best. 
Alternatively, sign up with a local trainer. Many PTs and instructors have flexed their flexibility skills during this crazy time and are now offering lessons online.
13. Pub Quiz
Quizmasters ready? Contestants ready? 
It's time for the weekly virtual pub quiz. 
This is one of the most popular Zoom games, easy to create and gets everyone involved.
Rounds may include:
General knowledge
Guess what the emojis spells (films, terms etc)
Picture round: closeups of photos, chronological order, odd one out
Music intros
Zoom has a whiteboard functionality for a Pictionary-style round
My friend Janice has created this Scotland quiz that you could adapt.
Remember the round of drinks to go with the rounds of questions. 
See our section on How to Use Zoom below for a quiz round idea using virtual backgrounds.
From experience, if you are the host and marker, it is best to have the answer written or printed out before the quiz.
I felt a tad overwhelmed and did the count the next day.
There's a number of local pub quizzes going virtual.
Check Twitter or do a quick Google search for your favourite pub. 
Know of a pub quiz online? Tell us in the comments below.
Here are a few:
14 *Insert Word* Bingo
Like the traditional game of bingo?
You will need cards and a dabber but unlike the normal game, you put on a TV show, film or maybe a crap political speech that currently happens daily and using your pre-arranged bingo boards you cross off words as they're said.
We used to do this at uni during party leader televised talks. Aye, I'm cool. 
How to win
Complete a line – cross off an answer in each box in a line across you card

Full House – cross off all boxes on you card
Or just play everyday bingo. Here are the cards UK / US.
Pinterest has printable cards for lots of themes here
Quick Do It Yourself Bingo 
I used to play this with the kids at school to start a lesson or test knowledge. 
Create a box with three up and three along. 
Provide more terms than boxes so in this case, more than nine terms.
Individuals choose terms and add to boxes.
You call out the definition (not the term) and the contestants then score off when they've guessed the correct term. 
♥ News just in! The world-famous Bongo's Bingo is kicking off bingo in the house! Check for dates and times here.
I went with pals to a Glasgow event and it's wild. 90's music + bingo = fun!
Me, Gemma, winning at bingo and a tad tipsy!
15. Try a Trivia Game
You don't have to manually create virtual games to play over Zoom. 
Let software do most of the work with Trivia Maker.

Launch the game 

Start the call

Share a screen

Get your game face on
Games can be work-related, child friendly, themed or general knowledge.
You can try it for free but it's a premium game. 
Hat's All Folks 
One last suggestion, make a call fabulous with a hat.
Thanks to my pal Kirsten and The Union team for that one!
---
→ My friends Megan and Scott have some fun quizzes on their travel site. To find out which animal you are, play the game here.
---

---
Video Call Software
There are lots of video call software options and some you may already have on your phone.
---
How to Use Zoom
Now a household name, Zoom is keeping people connected outside of the office! Talk about doing more than your day job, eh Zoom team?
Download the app
Open and click 'join a meeting' – you don't have to sign up to enter
You can also sign in or sign up at this stage on mobile
Type in the meeting ID which the person who has set it up will have. Add your screen name
The arrow on desktop version shows the people you've spoken to before
Type in the meeting password
Say yes to audio if you want to go in speaker on
Say yes to the video if you want to go in with video on
Use earphones if you can to help with sound quality
If you are having issues with connectivity try getting closer your router, switch off all other WiFi connections, use the LAN cable to directly plug into the laptop if the model allows it
Zoom Tips
It's nice to switch your audio off unless you are speaking
This stops others having to listen to you take a drink, sniff and other natural bodily noises!
To do this hit the mute button/picture of the microphone at the bottom of your screen
You can also hover over your image on desktop and select mute
If you need to leave the meeting temporarily you can block your screen off by hitting the stop video button next to audio
If you click 'chat' a column appears where you can type to people in private or to everyone in the group
On mobile, this is probably accessed by hitting the three dots [Apple]
How does Jim have a jazzy background?!
Click on the arrow next to 'stop video' and select 'choose virtual' background
Upload your image of choice, this function could be used in a quiz
You can also share your screen so it shows what you are looking at, just hit 'share screen'
Zoom has a whiteboard so you can draw/play Pictionary
If you require more than the free 40 mins, you can pay for one month subscription
How to Start a Zoom Call 
Sign up and confirm email activation in your inbox
Complete personal details and create a password
Here you will be given a personal meeting URL
You can also invite others at this stage and an email will hit their inbox with details
Starting a meeting later? No problem
Sign in, select 'schedule a meeting'
Complete the details and take note of the meeting ID
---
Final Words 
Basically any game can be transformed into a virtual version with a little bit of imagination. Knit club, fight club, dance club whatever your vibe just please remember to include everyone, especially those who are vulnerable to loneliness during this challenging time and don't assume the loudest in the group is fine. The extroverts will be finding this change hard too. Stay safe, have fun, tag me @twoscotsabroad 
---
Bookmark this guide to games to play over Zoom by pinning